BBQ Smoking Wood Chunks
Old blog updated with Winter 2021 prices
What was once just ...
... for Americans, Aussies and South Africans and a few hardy Brits BBQ-ing with an offset smoker is now popular here all year round. 20 years ago I was one of the very few supplying a small but very keen group of low an' slow cooks.
There's quite a bit of choice now but I hope you'll give my woods a go.
My best seller mixed box of Apple Oak and Cherry ...
... is good for new & experienced smokers as it offers a variety at a discount from per kg prices.
Of the three woods Oak is the cheapest followed by Cherry and then Apple. The Oak subsidises the more expensive fruit woods so if you had just Apple and Cherry it would be more expensive.
It's not sold by weight but there is about 14 - 15 kgs of wood - 2021 £46 delivered
There is an option to spec up these boxes with a bag of Hickory or Mesquite or Pecan on top for same delivery price or my other woods listed below.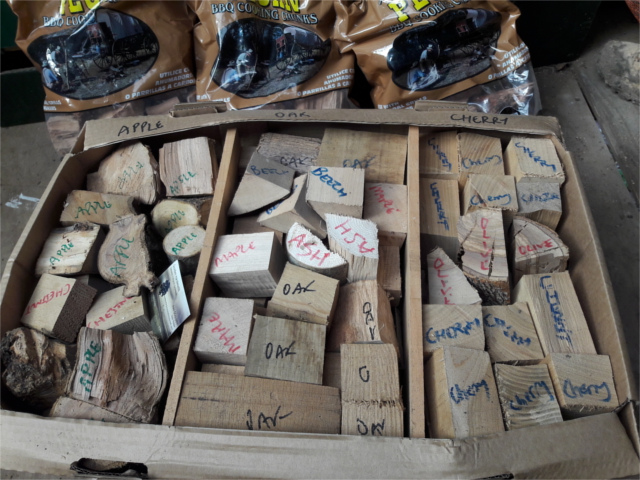 I usually put in a chunk or two of other woods to try
Last year I introduced a starter ...
... pack which currently has 2kgs of Oak 1.5 kgs Cherry 1 kgs Olive 1 kg Hickory or Pecan if availableand 4 chunks of 3 other English Woods for a delivered price of £32.
Imported and consequently ...
... more exy than my Hampshire Woods are Hickory Olive Mesquite and Pecan - more info below.
In addition the big 3 English woods above I have Ash, Beech, Birch, Olive, Maple, Walnut and Sweet Chestnut with occasional Alder and Plum - prices. New for 2021 Pear Post Oak and Hazel
If you want something bespoke ...
... rather than the mixed box you can have whatever mix you like. These orders I tend to put in foodbags in 1.5 kg quantities.
Four 1.5 kg bags with a few other extras fill a box nicely and should last large number of cooks. If you have a urge for a English wood not listed above like Elm which hasn't proved popular I can try and get it for you.